COIN BAGS / COIN BAG
Budco Bank and Money Handling supplies offers premium tamper evident plastic coin deposit bags at an affordable price. Our EcoSTAT coin deposit bags use the proprietary UltraShield coin bag film, the industry's first plastic film developed specifically for coin deposit bags. The EcoSTAT coin bags are also environmentally friendly, both biodegradable and recyclable. Most other competitors do not offer an environmentally friendly coin bag product, at all. Budco has been servicing the banking supplies industry for over 49 years so you know when you order a bank bag from us, you are getting quality and affordability.
We stock a complete line of coin deposit bags as well as many other bank bags and other money handling products. Our stock coin bags ship in 24 hours. Or, if you need custom bank coin or currency bags, we can quickly help you. All of our bank coin bags meet all Federal Reserve requirements.
Budco Bank and Money Handling Supplies is pleased to carry only the best coin bags and Currency Counters for all your coin handling needs.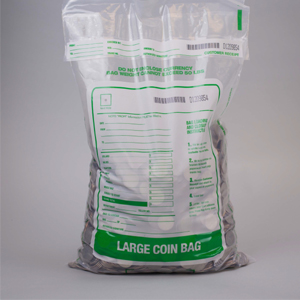 Click here to see this and our entire collection of Coin Bags.