COIN WRAPPERS / COIN WRAPPER

Budco Bank and Money Handling Supplies offers a full line of coin wrappers to meet your coin wrapper and coin handling needs. Our stock coin wrappers ship in 24 hours. We also offer custom imprinted coin wrappers designed with your custom imprint to make your coin wrappers highly visible with you company name.
Our Flat Tubular Coin Wrappers are a great low-cost alternative. Their "pop open" coin wrapper design is great for easy filling. Our Preformed Gunshell Coin Wrappers are great for use on coin wrapper packaging machines and for general coin wrap use. Our Automatic Coin Wrappers Rolls are used on automatic coin wrapper machines. All of these coin wrappers are made of heavy duty kraft paper and are color coded to meet all Federal Reserve requirements. Budco has been serving the banking supplies industry with quality bank supplies and money handling supplies for over 50 years. If you need help choosing the perfect coin wrappers or bank supply product or service for your institution, just ask us. With our intimate knowledge of the bank supply industry, our answers are always right on the money with our coin wrappers.
We're pleased to showcase a wide array of coin wrappers in our catalog and online store. If you still can't find what you're looking for after browsing our products, give us a call. Your call will be answered by a professional customer service agent, not an automated system. Tell us what you're looking for. We'll find that special item and add it to your order.
Coin Wrappers
All of our coin wrappers are made with heavy-duty kraft paper for the best quality. Our coin wrappers meet all Federal Reserve and ABA standards giving you complete assurance of being in compliance. In stock and ready to ship. Budco Coin Wrappers....Right on the money.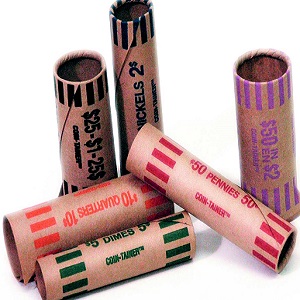 Click here to see this and our entire collection of Coin Wrappers.